Update
The Construction News Awards, which were originally scheduled for July, will now take place on Wednesday 14 October 2020 at the Grosvenor House Hotel, London.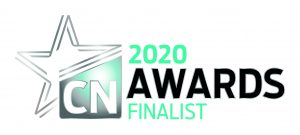 The Construction News Awards celebrates the best companies, projects and achievements of the building construction industry in the UK. The CN 2020 Awards is their 24th event and we are delighted to announce that our Contracts Manager John Doyle has been nominated for the Rising Star category, which recognises significant contributions to the construction industry.
"John is constantly praised by customers and colleagues. The testimonials from our Clients and partners provide evidence of the high regard in which he is held. We've nominated John in recognition of his achievements and contribution to Glenman's business growth in 2019 as well as his exceptional community investment contributions on projects under his responsibility. John has proven himself as a true team leader in the short time he's been with us. He has achieved this with a technical knowledge and professionalism that belies his age and has a very bright future ahead of him." – Micheál Conneally, Construction Director at Glenman Corporation Ltd.
All the winners will be announced at the Construction News Awards on 14th October 2020 at the Grosvenor House Hotel, London.