We sat down with Melisa Rodrigues this week to find out what she does at Glenman.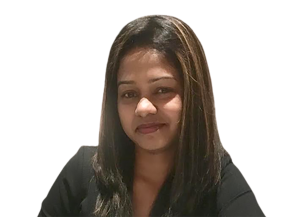 What is your job title?
Site Administrator.

How long have you been working for Glenman?
I have been working with Glenman since May 2021.
Tell us a little bit about your professional and educational background.
I completed my Diploma in Aviation Management and then began my professional career in the tourism sector in Goa for 4 years before moving to the UK.
My first job in the UK was with a recruitment firm where I got to liaise with external companies & major airlines and provide the most suitable and qualified staff for their business needs at the London Heathrow airport.
Later I changed my career path and joined Glenman as a Site Administrator for the Hounslow development. I have always been open to new challenges and experiences.
What is a typical day in Glenman like for you?
Since the Hounslow development is nearing completion, I am now based at our head office in Chiswick and have been working on a few new projects. My duties include directly liaising with each site team, compiling handover data and submitting handover documents to the client.

Tell us about an interesting project you have worked on since joining Glenman?
Since May 2021, I have been working on the Hounslow development which consists of 48 residential units and includes 41 flats, 6 houses and 1 bungalow.
I have thoroughly enjoyed my journey so far at Glenman, from working on-site with the team to moving to our head office location!

Tell us about your hobbies!
I have many! I love to swim, bake and play volleyball in my spare time and I also enjoy volunteering with charity organisations.