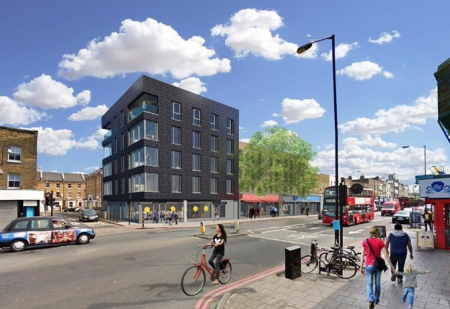 Southwark Council and Glenman Corporation are delighted to be working in partnership to deliver more high-quality new council homes to Southwark residents, through the design and build of a former petrol station on the corner of Penry Street and Old Kent Road. Design commenced in November 2021, with an anticipated completion date of May 2023. The project will deliver 24 new homes and three retail units; sustainably designed and constructed and forms part of the Council's ambitious target to deliver or start construction on 2,500 new council homes by May 2022.
Added value and a positive legacy will be achieved through social value where we will work alongside our design team and supply chain partners to create local jobs, to procure locally, to upskill the next generation of construction professionals through apprenticeships, internships and work experience, to contribute to community development and also by minimising our carbon footprint through sustainably run site operations. We are pleased to confirm that at this early stage, two local residents have been employed by Glenman in design and quantity surveying roles. A foodbank donation was also made to the Southwark Foodbank.
Penry Street was procured under the Notting Hill Genesis Framework.